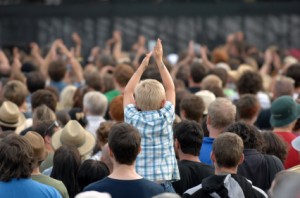 March is the national month for festivals, concerts and other fun stuff, which is why this month's video blog is all about the importance of budgeting for fun. Many of your financial goals will be big (like saving for a house or car), but it's also good to have smaller goals in your budget. Fun stuff, like budgeting for a concert ticket, gives you milestones to look forward to while you work towards your long-term aims.
If you scroll down, I've also provided a list of some of the country's major events this month with dates and web links. Have fun!
Tammy May's March 2014 video blog
Selection of March 2014 events going on around the country
Adelaide Fringe Festival (SA), 14/2-16/3 www.adelaidefringe.com.au
Byron Bay Film Festival (NSW), 28/2-9/3 www.bbff.com.au
Enlighten Canberra (ACT), 28/2-8/3 www.enlightencanberra.com
Adelaide Festival (SA), 28/2-16/3 www.adelaidefestival.com.au
Melbourne Food & Wine Festival (VIC), 28/2-16/3 www.melbournefoodandwine.com.au
Quiksilver Pro Gold Coast (QLD), 2-13/3 www.quiksilverlive.com/progoldcoast
WOMADelaide 2014 (SA), 7-10/3 www.womadelaide.com.au
Moomba 2012 (VIC), 7-10/3 www.moomba.com.au
Sculpture by the Sea Cottesloe (WA), 7-24/3 www.sculpturebythesea.com
Top Gear Festival Sydney (NSW), 8-9/3 www.topgearfestivalsydney.com.au
Formula 1™ Grand Prix (VIC), 13-16/3 www.grandprix.com.au
Melbourne Fashion Festival (VIC), 17-23/3 www.lmff.com.au
Melbourne Flower & Garden Show (VIC), 26-30/3 www.melbflowershow.com.au
Melbourne Comedy Festival (VIC), 26/3-26/4 www.comedyfestival.com.au
We're here to help
Our clients say that we are 'life changing.' This could be your story too.
Let's Talk