By Tammy Barton
Aug 18 2015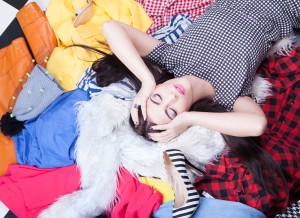 Is your home or workspace cluttered? Experts say that clutter may be holding you back from fully enjoying life. They tell us that living more simply can lead to greater happiness and lower stress levels. I say that decluttering can also turn unwanted stuff into handy dollars.
I recently moved house, which meant I had to confront the tyranny of stuff. It's confronting how much stuff a family of five can collect and how exhausting the idea of sorting through it can be. But, once I got started, I was inspired! Trips to the dump and donation runs to the Salvos were fun and strangely satisfying.
Here's how to get started:
Declutter one room at a time. If one room is too hard, start with a cupboard or even just a drawer.
Separate rubbish from recyclable and saleable items. Small loads of rubbish can probably go in your home bin. For larger loads, you might need to rent a mini-skip or take a trailer-load to the tip.
Set aside items for donation or sale. You'd be surprised by what sorts of items attract buyers. Don't overlook that some items become more saleable when they're bundled together (eg. bags of toys, boxes of children's clothes, bundles of books/CD/DVDs.)
Donate what you can't sell. Charitable organisations, such as Goodwill and the Salvation Army, provide a free collection service for large items. Smaller items can be taken to a local donation centre.
You have a number of options for selling your unwanted stuff. Check out my tips for holding a garage sale.
If you opt to sell your stuff online through a service like Gumtree or eBay, it pays to follow their selling tips. Over the years, I've given away and sold all sorts of things on Gumtree, from baby clothes to a broken down lawnmower.
We're here to help
Our clients say that we are 'life changing.' This could be your story too.
Let's Talk