Mybudget
How this mum conquered money stress
By MyBudget Editor
May 14 2019
In honour of Mother's Day, we take a look at the mental load of being a mum and, importantly, the mental load of managing money. If financial stress and the emotional demands of running a tight household budget has ever gotten you down, these ideas are designed to demonstrate that there is another way.
Mum's in the kitchen. She's making dinner, helping one child with their homework, helping another look for their ballet shoes. Meanwhile, she's got a mess of thoughts running through her head: reply to a work email, pay for an excursion, buy a birthday present, John needs a clean uniform, cancel Jane's piano lesson, get a loaf of bread out of the freezer…
The scene is a familiar one. Women spend nearly twice as many hours as men every week on housework and looking after children, but what the data doesn't measure is the mental load of managing a household and a job.
The mental load of money
"Mental load" refers to the invisible mental and emotional labour involved with keeping a family and household running. Men also feel the pressure of mental load, but research and reality shows that it affects women more. Household spending is another responsibility that tends to fall on female shoulders.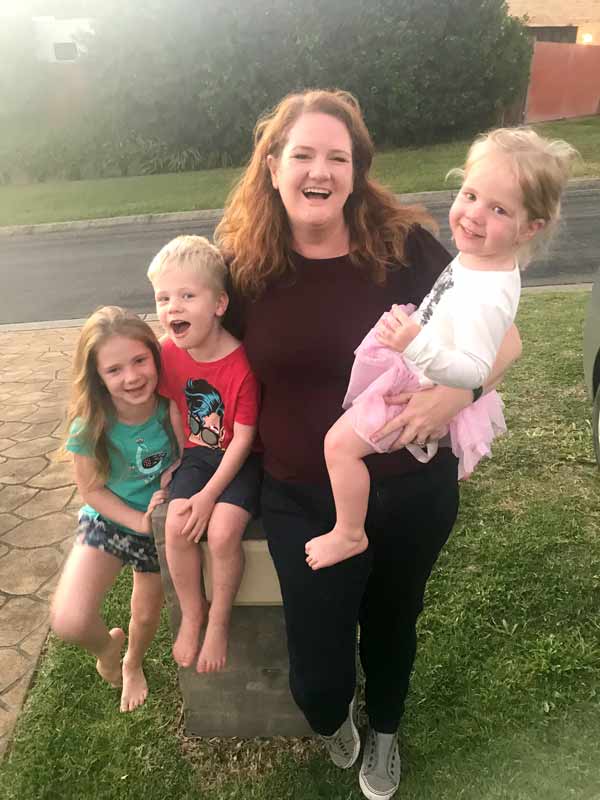 Alyssa is a good example. As well as being a wife to Pete and mum to Jemima (6), Hamish (4) and Lulu (2), Alyssa is the global director of information strategy for a software company. After chatting with Alyssa for only a minute, it's obvious that she's strong, smart and capable. Her resume is as impressive as her schedule. Her work takes her around Australia and the world regularly.
Alyssa is her household's primary bread winner, while Pete works two casual jobs that add up to full-time hours. Alyssa explains, "I did 65 flights last year and this year I'm set to hit a hundred. So, with Pete needing to be at home … the flexibility of casual work has been a benefit."
As for how they divide the housework, Alyssa and Pete share the duties between them. Alyssa takes care of all the cooking. "Even when I go away, I cook almost every meal before I go. It makes me feel better and it eases my guilt," Alyssa says with a smile. As well as cooking, she manages the family finances. Pete is responsible for the day-to-day running of the house and looking after the kids.
Something's got to give
Alyssa is someone you can't imagine failing at anything, but she admits that it was mainly her responsibility when their finances started to slide. "The financial stuff was the stuff I let go of first," she says. "I've always said that I can be really, really good at my job or really, really good at home, but I can't be both. So, while I was completely in control of everything at work, some things at home were falling over badly."
Alyssa explains that she would get bills, make a mental note to pay them and then completely forget about them until an overdue notice arrived. She had no spare time for cash flow management or budget planning. Wen big bills arrived, such as car servicing, Alyssa and Pete would have to pay for it with a credit card. As a result, they had more credit card debt than they could handle.
Alyssa tried to get on top of things, but found that her plans kept being derailed by unexpected expenses or poor planning. "If someone was to ask how much we earned," she says, "they'd think it was good money and we should have been much more comfortable than we were. We just had no sense of what was really going on."
She continues, "It was ridiculously overwhelming. I remember sitting at my desk one afternoon … and I was looking at this pile of papers [bills] and then looking at my bank account and the two didn't match up. It was completely our own doing. We were responsible for it … But it was just one more thing that I didn't have the mental capacity to manage. It was too much for me."
Stay the same or make a change
Alyssa is not alone. An increasing number of middle-income earners experience financial stress. At her wit's end, Alyssa decided to call MyBudget. "The person on the phone was just amazing. The first thing she did was reassure me and said 'you've actually done the hardest thing, which is just to pick up the phone.' And I decided at that point in time that I was going to be completely honest about everything."
Alyssa and Pete booked a budget consultation where a money specialist went through their finances in detail. They could have walked away with a free customised budget plan that included all of their income and expenses over the next 12 months. Instead, they asked MyBudget to manage their budget for them.
This means that their income is now automatically organised into streams and their savings and bills are paid directly from their budget. When they make a change to their budget, they instantly see how it affects their future payments and savings. They know exactly where their money is going, how much they can afford to spend and the quickest path to their financial goals. With the help of a money coach, they can also model different budget scenarios, which means they know they're making the most of every cent.
But how soon did Alyssa notice that her mental load was relieved? "Immediately," she answers. "The effect was instant. I felt that I was much more in control. I had so much more visibility and I liked the boundaries. The boundaries help to relieve the mental load because I know where the cut-off is."
Alyssa and Pete have been MyBudget clients for around 18 months. As well as reducing the mental load of money, Alyssa says that they've paid off three credit cards and reduced the limit on all of the others. "Once they're paid, we'll be as rich as anything!" she laughs.
Tammy's tips to reducing the mental load of money
MyBudget founder and director Tammy Barton has been helping people reduce the mental load of money for 20 years. Through her work, she's witnessed countless amounts of financial stress and helped more than 100,000 people overcome it.
Tammy's advice is that your finances are only as good as your systems. "When it comes to money, there's a popular idea going around that you don't need a budget—all you need to do is write your financial goals down on the back of a napkin. But goal setting is only part of the picture."
Tammy continues, "The reality is that you don't rise to the level of your goals, you rest on the level of your systems. That's why MyBudget clients experience such high levels of success—because they have a proven, stress-relieving, money-saving system and a team of budgeting experts on their side."
Tammy's other tips include:
1. Automate your finances as much as possible
Set up a direct transfer or ask payroll to disburse your savings and spending money into separate accounts. Also set up direct debits for important bills.
2. Open a separate account for your savings
Don't let your savings get mixed up with money earmarked for bills and living expenses. Keep the funds separate to avoid accidental overspending.
3. Build up a savings safety net
Build flexibility into your budget by having a surplus of savings to fall back on. You can build up your savings over time or set aside a one-off payment, such as your tax refund, for this purpose.
4. Create a household budget
Make sure that your budget includes all of your income and expenses over a 12-month period. This is essential to ensuring that you don't get surprised by big, infrequent bills, such as car registration and servicing.
5. Talk about money
The strongest couples take a team approach to money management and household responsibilities. It's great to talk about your financial goals, big and small.
Would you like to reduce the mental load of money? Contact MyBudget to request a free budget consultation. The customised budget plan we design is yours to keep.

We're here to help
Our clients say that we are 'life changing.' This could be your story too.
Let's Talk