Mybudget
Loyalty & rewards programs - are they worth it?
By Tammy Barton
Jun 21 2011
Until a few months ago, my purse was literally bulging with loyalty cards. I had about 15 of them, most of which rarely saw the light of day. But there comes a point when a bulging wallet is no longer conducive to good money management. That's when I asked myself the question "are loyalty cards worth it?"
FlyBuys, owned by Coles, is the largest loyalty program in Australia. The program was launched in 1994 and now has over 10 million card holders. That's amazing market penetration in a country of around 22 million people, but it also makes sense—every household has to buy groceries at some point. Woolworths has its own version, Everyday Rewards, which has about 5 million card holders.
Loyalty card programs are usually free, but you shouldn't forget that an exchange is taking place. The retailer is hoping that your membership to their program will encourage you to always spend with them or within their network.
You are also exchanging your personal information with the retailer. This data is extremely valuable to retailers and their marketing teams. By tracking your spending habits, the retailer can design offers and campaigns that target you and people like you to spend more with them. So don't be surprised to be bombarded with offers and promotions. I suggest setting up a separate email address (free with Gmail, Hotmail, Yahoo etc.) to specifically receive these sorts of communications so they don't clog up your usual inbox.
You may have heard the saying "messy desk, messy mind"—the same is true with a person's wallet and their finances. You can start taking control of your money by taking control of your wallet. Step one is to get rid of the loyalty cards you don't use regularly.
Only join loyalty programs which complement positive buying habits or essential spending. And don't let a loyalty card stop you from shopping around for the best deal. A dollar saved is always better than a rewards point earned.
Avoid loyalty cards that encourage you to spend money on things that aren't essential, even if the rewards are free. Deals like "buy four cups of coffee and get your fifth cup for free" encourage you to spend money on something you don't need. If you start every work day with a take-away coffee (even taking into account that every fifth cup is complimentary), it'll cost you over $600 a year. You could make your coffee at home and use the money you save to buy Christmas presents or have a weekend away.
My final word is about credit card reward programs and store charge cards that offer incentives such as frequent flyer points, gifts and cash back. Many of these cards come with an annual fee and/or a high interest rate. If you have a rewards credit card or store charge card, make sure that you pay the balance in full every month. Otherwise, your "free" flights and gifts are actually costing you a packet.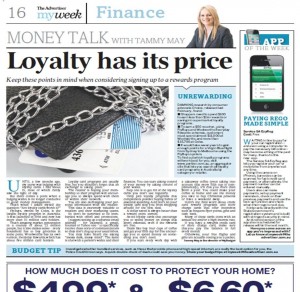 This article was also featured in The Advertiser 'My Week' liftout on 20 June, 2011. Catch more of Tammy's money-wise tips in The Advertiser every Monday and in other News Limited publications.
Do you have hot tips and handy hints for saving money? Email your ideas to moneytalks@mybudget.com.au.
Refer a friend to MyBudget and go in the running to win a $300 Westfield shopping spree. Contact MyBudget for details.
Putting lives back together since 1999. Contact MyBudget today on 1300 300 922 or at www.mybudget.com.au.
We're here to help
Our clients say that we are 'life changing.' This could be your story too.
Let's Talk